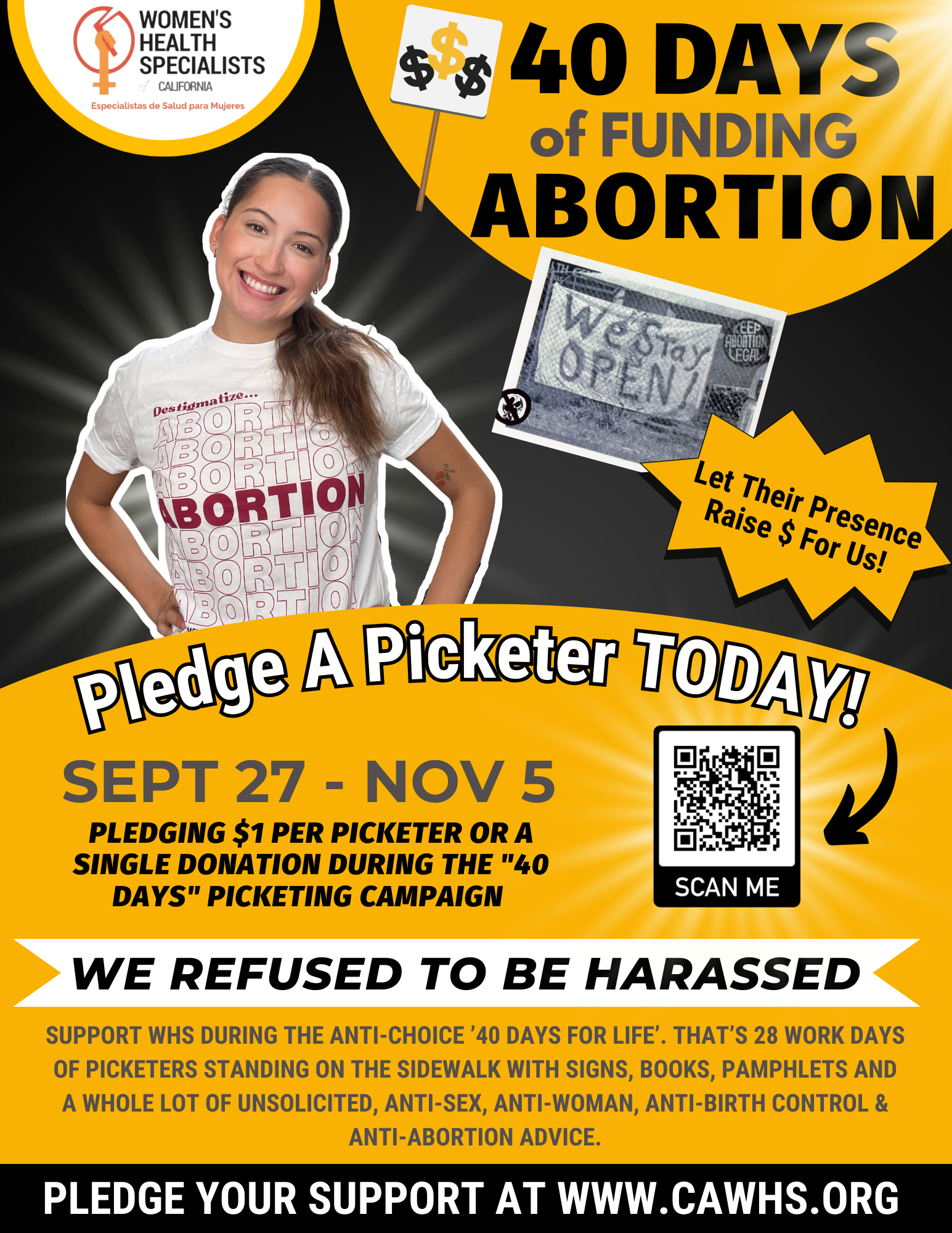 Pledge A Picketer- How it Works:
1.Make your pledge!
Decide which pledge is right for you and how much you want to give to support Women's Health Specialists.
2.We count
We will track how many picketers come to the clinics each day.
3.We calculate 
At the end of the campaign, we multiply your pledge by the number of pickters.
4.We send you an invoice
By the Monday following the campaign, we will send an email with your gift total and donation link.
5. Give your gift
When you honor your pledge, you provide Women's Health Specialists with support in providing crucial health services in our community!
Pledge a Picketer Giving Options
Pledge Per Picketer 
Decide how much you would like to pledge per picketer. We multiply this amount by the number of picketers for the month and send you an invoice with a link to payment. Ex. If you pledge $1 per picketer and we have 25 picketers that month your total will be $25 for the month! *You may cap your monthly gift and your monthly total will not exceed that amount. Your pledge will start from the day your pledge is made through the last day of the campaign.
Flat Monthly Gift 
Choose a consistent monthly pledge to donate every month. This amount will never change with the amount of picketers outside the clinics. This gift will be charge immediately.
One Time Gift
You choose a one time gift to assist the pledge a picketer campaign! This gift will be charge immediately.
Option 1: Pledge a Picketer
For each day our health center is picketed by anti-choice activists from SEPT 27- NOV 5, I want to pledge!
Make your pledge by submitting this form.
Option 2: Flat Monthly Gift
Make a monthly donation to our campaign! Your generous gift will support our Education and Advocacy work.
Make a one time donation to our campaign! Your generous gift will support our Education and Advocacy work.
When you pledge a picketer, you turn their deplorable actions into financial support for Women's Health Specialists! To sweeten the deal, we will post your donations (anonymously... of course!) to let the protesters know how much they help us!
The Pledge a Picketer campaign supports Women's Health Specialists, an independent not-for-profit clinic that provides abortion, adoption, contraception, and fertility services in rural northern California. Women's Health Specialists is enduring daily protests organized by 40 Days for Life, a nationwide effort to keep people from receiving abortion care by picketing clinics.
These picketers aren't trying to exercise their free speech rights -- they're trying to deny people the right to end a pregnancy.   They've vowed to picket every day until November 5th. Day after day, waving signs, hurling insults, trying to scare people into turning away.  But we won't be intimidated!
Day after day, the clients and staff of Women's Health Specialists must endure harassment, yelling, waving judgmental and graphic signs, hurling insults, all in sick, cruel attempts to control women's reproductive choices. But we won't be intimidated and we will always be here for our clients, and continue to fight for all women to have all reproductive health options available to them, as we have for 4-- years.
Please join me and make a donation to the Pledge a Picketer campaign.  Let's show the 40 Days for Life picketers, Brett Kavanaugh, and everyone else who opposes reproductive freedom that we support women and the dedicated health care workers who provide the care they need.
You can pledge any amount -- everything helps.  Please, make your donation today, so the Women's Health Specialists health care workers, nurses and doctors know you're standing with them and the people they serve.
Sincerely,
WHS Staff