Our Philosophy
The philosophy of Women's Health Specialists is to promote positive images of women and provide our clients with a new perspective of their bodies and health. We give women the tools to evaluate their authentic health care needs - images of women not based on a societal myth, but based on women's reality and experience. We provide women with health information so they can become knowledgeable about their normal life stages. Our goal is to empower women through support, education, self-help and services so that they can make the best health care decisions for themselves.
Our Vision
We have a vision: A world where women control their own bodies, reproduction and sexuality. The Feminist Women's Health Center / Women's Health Specialists is dedicated to providing women-controlled health care and advocating for all options for all women. Only with dignity and freedom of choice can women achieve their full potential.
Non-profit Tax ID # 94-2259357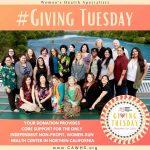 Do something radical this #GivingTuesday, give the gift of access! Donate to Women's Health Specialists today! Support Women's Health Specialists this #GivingTuesday by making a donation today! Your support helps Women's Health Specialists provide crucial reproductive health services to thousands of individuals every year. Thank you in advance for your donation and supporting reproductive freedom. […] Read More
Valentine's Day Sex Drive Get ready and grab your friends, lovers, or #bootycall because invited! Women's Health Specialists is hosting a Valentine's Day Sex Drive. Drive, bike, or walk up for your FREE quarantine sex kit. Join us Friday, February 12th at our Redding location and pick up your free Quarantine Sex Kit! Sponsor or […] Read More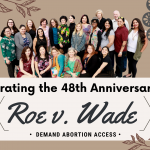 The 48th Anniversary of Roe v. Wade Women's Health Specialists virtual celebration of the 48th Anniversary of Roe V. Wade. Join us in protecting abortion access. Support your local independent reproductive health clinic. Donate today!
Read More