WHS Cultivates Young Women Leaders In Northern, CA
"The Young Women's Leadership Program helped me to be able to speak for myself and my body and empower others."
— Diane Intharinh, Program Participant
The Young Women's Leadership Program draws on the expertise of local social service agencies and clinic peer health educators in a comprehensive program detailing STD, HIV and pregnancy prevention information in a culturally sensitive and competent manner. The program's focus is on active youth participation and the sharing of relevant youth knowledge, with adult providers helping to create a dynamic, interactive process.
The program participants will benefit from facilitators who bring a women-centered, feminist analysis to reproductive healthcare. Experienced clinic staff members who function in a woman-controlled environment will share their work, knowledge and influence, eventually expanding the sphere of leaders and the youth movement. This leadership model is unique, where the clinical service providers are the significant feminist leadership in their community and use developmental assets in a new and exciting way to build a steadfast foundation of knowledge for new youth leaders.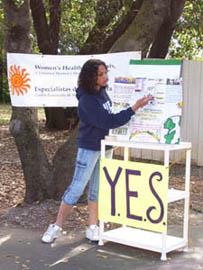 "This training has taught me so much...I learned how much women look to other women for support and how important that bond is because we all go through the same things, we all have the same questions and we are all human…"
— Mary Ann, Program Participant
Support Our Young Women's Leadership Program
Give young women the reproductive health knowledge and life skills they need to build self-confidence and hone their leadership abilities through this peer-based leadership program. Click here to support our Young Women's Leadership Program!