A 19 Year Old Woman's Cervix And Menstrual Cycle
This woman is 19 years old. She started having periods when she was 13. She has no children and has had one abortion. She is not having a menstrual cycle because she is taking birth control pills.* She has intervals of bleeding from drug withdrawal that last approximately five days. There is no significant difference in the appearance of her cervix from one day to the next, due to the fact that the Pill is suppressing the normal menstrual cycle.
The Pill Cycle: A woman takes a pill each day for 21 days. During this time most women do not have bleeding. Then she stops taking pills for seven days, or takes sugar pills instead. Within the next day or two (day 22 or so) most women get breakthrough bleeding which is really drug withdrawal bleeding that results from abruptly discontinuing the hormone-like drug contained in the Pill.
DAY 1: Day 23 of the Pill Cycle (sugar pill). Note the small amount of bleeding from withdrawal of the drug.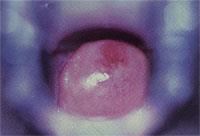 DAY 4: Day 26 of the Pill Cycle (sugar pill). Many women who take the Pill notice that their cervixes tend to be darker in color.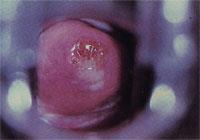 DAY 14: Day 8 of the Pill Cycle. Her squamocolumnar junction is visible, but does not seem to change much throughout her cycle.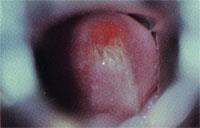 DAY 23: Day 17 of the Pill Cycle. Her cervix looks the same as it did on day 14.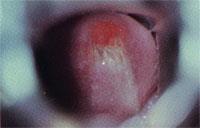 DAY 28: Day 22 of the Pill Cycle (sugar pill). She has a whitish secretion coming out of the os. This is the last day before breakthrough bleeding begins.