#SeeItShareIt #Shut It Down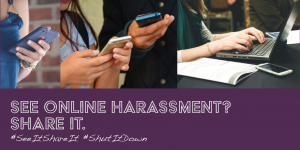 Over the past few years, online bullying of abortion providers has skyrocketed. During October, National Anti-Bullying month, let's shut down harassment.
We developed the #SeeItShareIt #ShutItDown campaign to encourage multiple users to report cyber bullying. This gives social media platforms additional information and context to better assess cyber bullying and online harassment issues.
'As with all of our standards, we rely on our community to report this content to us.' – Facebook.
Get Started:
Follow @SeeShareShut on the official campaign Twitter and Facebook pages. There is also a Facebook event page for the initial launch week October 24th-October 28th!
Share an initial post about the campaign, encouraging others to follow @SeeShareShut too!
We will repost harassing posts, and ask YOU to officially report them within the social media platform, and share the post to your networks. The more people who report, the quicker this kind of abuse will be stopped.
See a harassing post on your own? Anyone facing abortion related harassment can tag and share their posts with #SeeItShare #ShutItDown
Together, we will #SeeItShareIt and #ShutItDown
All Social Media bans harassment, or calls to harass private individuals. All social media bans hate speech based on gender.
If I see a post asking for prayer for an abortion provider, how is that harassment? Read a little further…posts asking for prayer use language like, " pray for them…as we defend unborn children from them." The language is aggressive and confrontational. It implies the subject of the post is violent, which isn't true. Facebook doesn't tolerate content that will, "identify and shame private individuals" nor "Sharing personal information to…harass people."
What if I see a post about an abortion clinic, and I'm not sure if it's harassment? Message us! @Seeshareshut on Twitter or Facebook. We are happy to help. Read below to know what is and isn't acceptable on social media platforms. Remember, social media relies on its members to report problem posts. Visit the Facebook or Twitter Community Guidelines.
I want to share a post that has a photo of an abortion clinic staffer, but I don't want to share her face. What should I do?
Desktop: You can press the "PrtScn" button on a desktop to take a screen shot. Open the image in paint, and draw a box over the face. Type the phrase "Photo Removed," over the box. Crop the image, save it, and share it!
Mobile: Take a screenshot. Use a photo editor program to draw a box. If you can add text, add, " Photo Removed," and share it!
You can also alert us by messaging @SeeShareShut!
The campaign is ongoing. With your support, we can ensure that online harassment isn't tolerated.