Fund-a-thon is back!
Join us to #FundAbortionBuildPower in 2022. Your participation could be the difference between someone getting the abortion they need and being forced to go without. Send a message that you believe we all should be able to access abortion because no matter how much money we make or where we live. 
Let's fundraise together! Women's Health Specialists will be hosting a Virtual Liberation Bingo Night.
Virtual Liberation Bingo Night
Date: Thursday, May 26th, 2022
Time: 6:30 PM - 8:00 PM (PST)
Get involved today!
There are so many ways to get involved in our annual fund-a-thon. Any way you choose to support will help expand abortion access in Northern California. 
Become a Fundraiser
Help fundraise for abortion access today! Become a fundraiser and help fund abortion from April 1st - May 31st. Fundraisers will receive extra Women's Health Specialists merch and prizes for their fundraising efforts.
Donate
Support a fundraising team! Your donation will help provide abortion access to the people of Northern California. You will be supporting the only women-led independent abortion clinic in Norcal.
Buy Bingo Card
Buy a bingo card and support abortion access! Your bingo card donation goes to the Women's Health Specialists Women in Need Fund which helps provide people in Northern California with access to abortion care.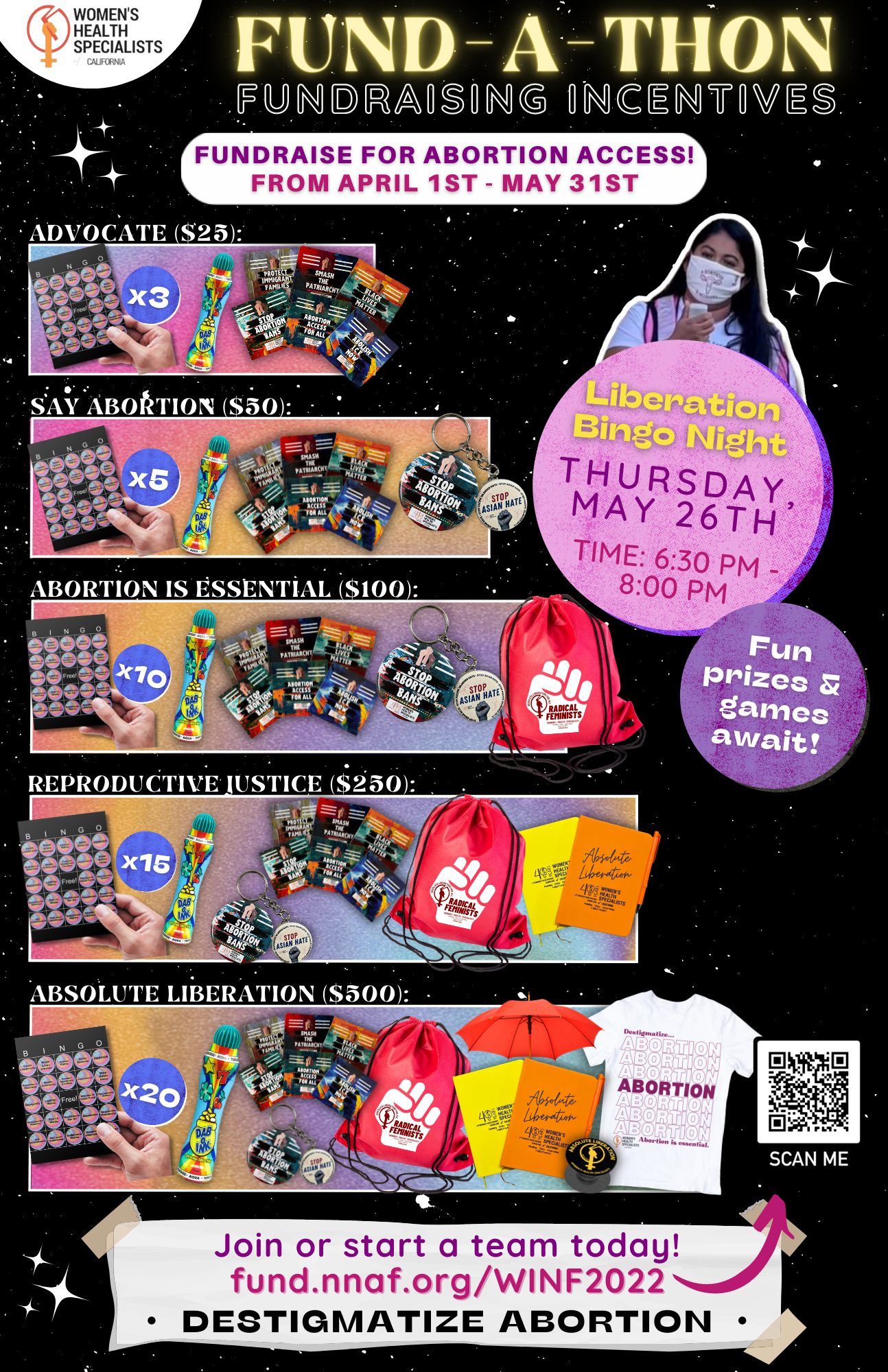 Check out your fundraising incentives!
Let your fundraising win you some fabulous prizes. We are fundraising till May 31st! What level do you want to reach?
| | | |
| --- | --- | --- |
| Amount | Tier | Prizes |
| $25 | Advocate | 3 Bingo Cards, Bingo Dotter, Advocacy Stickers |
| $50 | Say Abortion | 5 Bingo Cards, Bingo Dotter, Advocacy Stickers, Button or Key Chain |
| $100 | Abortion is Essential | 10 Bingo Cards, Bingo Dotter, Advocacy Stickers, Button or Key Chain, Radical Feminist Draw String Bag |
| $250 | Reproductive Justice | 15 Bingo Cards, Bingo Dotter, Advocacy Stickers, Button or Key Chain, Radical Feminist Draw String Bag, Notebook |
| $500+ | Absolute Liberation | 20 Bingo Cards, Bingo Dotter, Advocacy Stickers, Button or Key Chain, Radical Feminist Draw String Bag, T-shirt, NotebookPop Socket, Umbrella |