40 Days of Funding Abortion! Pledge a Picketer Today!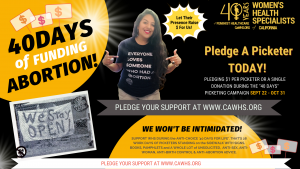 Abortion access continues to be under attack! Take actions and participate in our Pledge A Picketer campaign from Sept 22-October 31. That's 40 DAYS of FUNDING ABORTION! Every day a protestor shows up to harass, bully and intimidate our clients and staff we let their presence raise funds for ABORTION access!
PLEDGE A PICKETER
The Pledge a Picketer campaign supports Women's Health Specialists, an independent not-for-profit clinic that provides abortion, adoption, contraception and fertility services in rural northern California. Women's Health Specialists is enduring daily protests organized by 40 Days for Life, a nationwide effort to keep people from receiving abortion care by picketing clinics.
These picketers aren't trying to exercise their free speech rights — they're trying to deny people the right to end a pregnancy.   They've vowed to picket every day until October 31st.  Day after day, waving signs, hurling insults, trying to scare people into turning away.  But we won't be intimidated!
Day after day, the clients and staff of Women's Health Specialists must endure harassment, yelling, waving judgmental and graphic signs, hurling insults, all in sick, cruel attempts to control women's reproductive choices. But we won't be intimidated and we will always be here for our clients, and continue to fight for all women to have all reproductive health options available to them, as we have for 46 years.
Please join me and make a donation to the Pledge a Picketer campaign.  Let's show the 40 Days for Life picketers and everyone else who opposes reproductive freedom that we support women and the dedicated health care workers who provide the care they need.
You can pledge any amount — everything helps.  Please, make your donation today, so the Women's Health Specialists health care workers, nurses and doctors know you're standing with them and the people they serve.
Click here for more information or to make a pledge today! Pledge A Picketer Page